So it's the V week. And no I don't mean vagina.
12th February 2013
I've always been a firm believer in Valentines day being a crock of shit.  No, seriously. Why do we have to conform and just have this one day out of 365 to show our partners that we care and love them?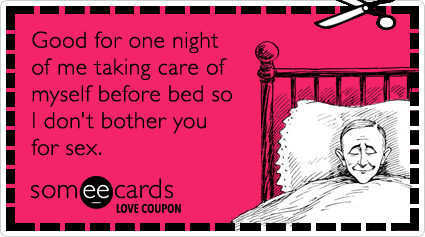 Over the years I've been told I was unromantic and even an ice queen. That's beside the point. When I was dating my ex girlfriend I would often pick flowers on my walk home from the train station and hand them to her that night when she got home from work. The smile on her face was enough to make me keep it up, once or thrice a week. She was the one that looked after organising valentines day because she did the whole sweeping me off my feet and showering me with affection to perfection. Isn't it funny how I always assumed that would be a man that did that? No man ever has. Sad isn't it?
So the question I have is why do we need a specific day to show the person you're spending your time with that they are special to you? Isn't it a given that you should try to let them know at least a few times a week that you love their company? Their smiles? Their silly sense of humour?
So this V day I was thinking about sending my current partner a bunch of flowers to his work. Why? Because I think his workmates would pay out on him incessantly and I would find this highly amusing. Plus, I'm not sure that men get enough flowers. Why should women only get the joy that flowers bring?
I was talking to a friend yesterday and told her that I would probably actually love getting something like this for V day – it's a beautiful lil pot of succulents:
She called me a hypocrite. Not sure if it makes me a hypocrite or not. All I know is that V day has never been a huge thing on my calendar. It could be because the first person I ever dated thought taking me to see Starship Troopers was romantic and that's put me off V day for the rest of my life. I mean, all girls love blood and guts viewing for V day right? It speaks of love and affection in the most primordial of ways – troglodyte style.
So it goes to show that when my current partner exclaimed that valentines day was this week and what we were going to do  my reply was something like this: "well we're going to go to Rope Dojo and you're going to tie me up in some punishing way that's going to take my breath away" but then mentioned that if he really wanted to do something we can organise a day over the weekend where we go out and spend time together doing something. Which is what we tend to do over our weekends anyway. I don't know what the something would be, I did mention that I hope he's not expecting anything too romantic as I seem to have been hiding behind the couch when the gods were handing out the romantic bones obviously if we are to go off the experience from previous relationships.
Or it could be that I might have a slightly anarchist bent. I do so hate to conform. To assimilate.
So I think I'll stick to sending photo messages saying cute things like thanks for being in my life and making me smile. You're amazeballs.
And cute kittens.
You May Also Like
14th March 2015
28th November 2014