Road trip memories #2 – Las Vegas Day 1
22nd October 2013
I landed in Vegas just as the sun was setting, most lights weren't on yet, the greyhound station was along S Main St…That picture up there may as well been what I was faced with in the greyhound terminal.
I grabbed my luggage and walked out and down the street. Under the multi-lighted Plaza Hotel towards what I hoped was Fremont St and my hotel.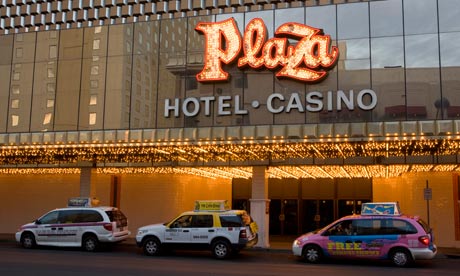 The lights were dazzling, my jet lag was fading and I was actually dragging my bright pink and empty suitcase along the path behind me with a skip in my step.
Toto, we weren't in Kansas any more! I was in Las Vegas baby!
There might have been some dance walking and squee'ing at this point. It was allowed, no one was around.
I walked until I got to the great big arc and decided that it must be the Fremont Experience – no lights were quite yet on but there was a stream of people. They seemed to be wandering around listening to the bands that were playing along the street and shopping. Because there's casino's here, but there's also these great big junk shops. Well ok, not junk per se, tourist spending traps I should say. Kind of like the $2 shops we have at home, but multi-levelled and full of Vegas stuff.
So I wondered up the road, possibly with huge eyes like a kid in a candy shop. This was all so different. And no one was speaking with an Australian accent. My ears were singing.
I walked up Fremont and kept walking because that's what my GPS told me to do. Yes I cheated. I get lost at the drop of a hat in weird and wonderful new cities. As you will hear later. But I thought I would be sensible until I got my luggage stashed and at least had a shower. I'd just been travelling for about 24 hours.
Found myself at the El Cortez and wondered in. It was so quaint and retro. I started to fall in love with down-town Las Vegas at this point.
I chatted to the front desk person and got my key and away I went. The rooms were fabulous. Huge king bed, my body felt the pull of it like the king tide on a full moon. I resisted though. I threw everything down, got naked, hunted for my camera and took this picture…  It was like a stool thingy-mi-bob at the foot of the bed. I called it my spanking bench. Perfect height. Perfect comfort value if you were to bend over it, lie on it on your back with your legs akimbo… Yes I tried all the positions. I tried to figure some way of sneaking it out and back to Australia with me but it was never going to be. So instead I whispered sweet nothings to it and promised it that I would be back soon.
So I hop in the shower and can't figure out how to turn on the taps to make the water come out. By this stage I either figure it's jet lag or my brain fell out. After a good 30 minutes of me trying to figure out why there was no hot water coming out of the shower head and only cold I gave up and called the front desk. I politely asked the woman how one turns on the hot water in the shower as I could only get the cold water to run. She snickered at me. Don't blame her. She advised that she would get the engineer to give me a call. I felt so horrible!! I don't need an engineer! I just need to know how to turn the hot water on!! She said she had no idea how they worked and that he would contact me soon.
10 minutes later I hear a knock at the door. The engineer. In his blue overalls and everything was standing there looking at me rather bemused. I didn't realise he was going to turn up! I was expecting a phone call. So there I am in my too small hotel towel, trying to keep the top and bottom of the towel closed so that I don't flash him inadvertently considering the towel barely covered my bits. I explained to him that I didn't know how to make the hot water come out only cold seemed to and he grunted at me and walked into the bathroom. Turned the knob and then kept turning it and voila. Hot water.
I was mortified. In my towel. And apologising worse than an English person. Damn you shower! You won first round. Engineer walks out and I blissfully jump into the shower. I didn't even walk him out, I was busy shutting the bathroom door so I could throw my towel away and climb under the steaming water.
After my blissful shower I thought I should at least go and check out what's going on outside before falling over and going to sleep. So I dressed and headed out. Walked the 5 minutes to the Fremont Experience from the hotel and instantly fell more in love. They have this huge LED screen that covers the entire strip of down-town. It lights up like a bloody Christmas tree, but better! And they have stuff showing on them! There are bands playing everywhere, there's casino's… there are bars IN THE STREET!!!
Mind blown moment: You can buy an alcoholic drink and keep walking!! Down the street!! It's unheard of! I was in total culture shock. So much so that I had to have a few shots of tequila at the street bar to calm my nerves.
And my first ever pick up. Well, not me, I was wondering back to the hotel rather tanked and quite happy that I could easily have slept like the dead when this guy walking past me offered to go to my room with me. I was like "Say what?" He wanted to keep me company apparently. Oh yes, "company"… No thanks! I'm so jet lagged I wouldn't know what to do with your cock even if you flopped it out now! He laughed and kept walking… American men are so different to Australian. Quite.
I got my drunk ass to the hotel room and passed out happily until the next morning…
You May Also Like
11th September 2014
14th March 2015
22nd October 2014