Why I hate Valentines day…
14th January 2014
I think the only good valentines day I ever had was when I was dating my ex girlfriend and this could have been because we actually planned lovely romantic dinners and things to do together. Where as all my valentines days until this point and after were duds. Absolute duds. To the point I'm a bit traumatised and am going to spend Valentines day this year on a plane flying to the States.
So here's one of the most epic failed valentines day getaways ever, courtesy of Beth and her blog entry about her failed honeymoon…
My ex boyfriend once thought it would be a great idea to go on a surfing trip up the north coast for valentine's day…. I don't surf. I was a bit dubious about this from the onset, but figure that he was being sweet by inviting me along to one of his epic going away surfing trips. I shouldn't complain. So I didn't.
After 10 hours of driving in his van, he advises me that there is no tent, we'll sleep in the back of the van… with the doors open. You think? Aren't there bugs? What if we get eaten alive? No no he says, we have insect repellent, we'll be fine. I look at him doubtfully but figure that he's done this rough camping crap before, surely he'd know.
So I  shrug, ok, this shouldn't be too hard right? I mean what's the worst that can happen? It's summer – she'll be right mate.
The camping ground was nice, a huge clearing in the forest above the beach which was about a 15 minute walk down the mountain side to crystal waters.
There were kangaroo's lounging about the camp. And a pit toilet.
Yes, one of those horrid things that I can't use. I'd rather go in the bushes. Ahh the Australian bush, how I love thee… I wrinkle my nose and point out that there's a pit toilet – he rolls his eyes at me. I can be such a city slicker sometimes.
So far so good right?
Wrong.
We get out of the car, have wonder down to the water and check out the surf and dolphins. DOLPHINS! I get a wee bit excited.
We get back to the campsite and I squee at the kangaroo's that turned up while we were walking…
Then the march flies, horse flies, whatever the hell you want to call those big ass fuckers start appearing…. They bite. Hard. Hundreds of them. EVERYWHERE!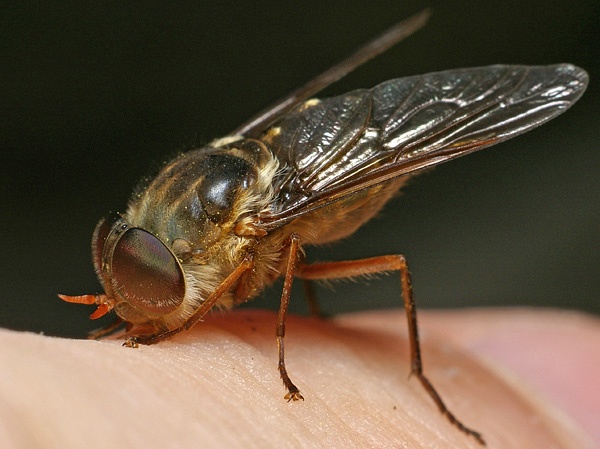 I sprayed myself with 3 bottles of insect repellent and still they persisted. They stalked me all the way down to the beach! I couldn't even lie on the sand in my cute bikini to read my book because these things were trying to cover every inch of exposed skin I had so that they could latch on and suck me dry.
I asked my ex if it would be ok for me to ask the cute gay couple over yonder if I can sleep in their tent since they had a fly screen. Did he think they were cute? Could I pimp him out to them and they could all stay in his van and I could have the tent? You know, the thing that would have been handy in the fucking WILDERNESS for US!!! He was soooo nonplussed. He slept through the night like a baby, I wanted to stab him while I laid there getting eaten in turn by flies and mosquito's.
By 3pm the next day, after 48 hours of no sleep and getting stalked by these monster flies – I called it.
I had the biggest princess moment of my life at this point. The flies were following me everywhere and just biting constantly, the kangaroo's I was certain were laughing at me and the dolphins weren't helpful at all. Fuck you nature, just FUCK YOU!
So I stopped mid-bush walk. With about 5 million flies stuck all over me, waived my arms around, shook my hair, screeched, cried, bounced, pulled my hair, pouted, snotted and stomped. He, bless him, stopped and did his "are you having a fit" look.
I told him I'm going to go find a hotel and stay in it. Even if I have to walk 3 days to get to one and get out of this god forsaken fly ridden hell hole.
Where they have fly screens.
And a toilet that flushes.
And a shower.
And that next time he wants to go surfing he can bloody well go on his own and find some gay boys to tent up with because I refused. Fuck nature and fuck your valentines day weekend away being about your stupid surf board and not me.
I was sweaty, covered in a bucketload of insect repellent that didn't work and had no way to brush my teeth. And I was sure the eu de repellent mixed with sweat wasn't a good smell. He advised me to go wash in the beach, I told him I'd kill the dolphins… I was wearing that much toxicity.
I made him drive me to a hotel and paid for the room. He ended up staying with me but drove off to a different beach for a surf in the morning. I didn't care. I stayed in bed.
Clean. Bed.
And then spent the day reading my book in a civilised fashion, on a clean bed, with air con. Waving my middle finger at the march flies that were stuck to the fly screen by the hundreds that couldn't get to me to eat me alive.
I win nature. I win.
You May Also Like
30th April 2014
23rd November 2014
30th June 2014